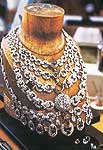 Diamonds are forever. Or so the Cartiers thought, till they wanted to have for their archives what was the closest to the original; the Patiala Necklace they had once produced. But no amount of effort could produce natural stones of the same brilliance.

It was extravagance unbound even by the profligate standards of the maharajas. The eighth Maharaja of Patiala, Sir Bhupinder Singh Mohinder Bahadur, GCSI, GCIE, GCVO, GBE, ADC, had asked his newly acquired friend, the eldest grandson of Louis-Francois Cartier of Paris, Louis-Joseph Cartier, to make the Patiala Necklace; the biggest ever created by Cartier with 2,930 diamonds amounting to 962.25 carats, set in platinum—a metal new to India of the 1920s where jewellery showed a preponderance of gold. Nothing was quite as stunning as the Patiala necklace that would have been famous if only for the light yellow octahedral crystal from the De Beers mine. The 428.50 carat (pre-1913 non-metric carat) rock was 47.6 mm through its longest axis and 38.1 mm square and the House of Cartier created history in 1928.

What was discovered at a London auction was a pathetic remnant of the original. Even the pendant was gone. What remained of the original were detailed notes and sketches in the Cartier archives that documented every stone used; the necklace was no more than an interesting string of platinum. The only solution was to mimic reality. And that Cartier has now done.